We know running a pro shop ain't easy. When times get hectic you'll be thanking yourself for having a solid system in place. Here at Chronogolf we believe that having a modern golf point of sale (POS) equals a smoother operation and happy customers, that's why we put together this helpful guide to help you understand what needs a good golf POS will satisfy.
Golf has a long and rich tradition that has been important to so many people for centuries. Unfortunately, this long tradition has not always translated into modernization in the pro shop. In fact, many golf courses still use pen a paper to track their daily tee times, and courses who do use computers to manage their operations often find themselves using a buggy, outdated, and expensive tee sheet and golf POS.
Not all Golf POS systems are created equal
There are wide range of options available and the differences between each service are substantial. Some POS systems run on an expensive server stored directly at the golf course, these systems often are only compatible with certain computers, printers, and accounting software. Other golf POS systems have an open application program interface (API) which allows other, best of breed, software to easily connect into the POS and help with marketing, accounting, and other aspects of golf management.
Slowly but surely the golf industry is modernizing
Since the advent of online marketplaces where tee times are bought and sold, and the popularization of tee time management software, technology usage in the golf industry is becoming increasingly important. There are wide range of solutions that exist, such as cloud based golf POS and club management software. To make the best decision, golf managers need to understand what options best suit their needs.
The Chronogolf solution
At Chronogolf we provide the most advanced golf POS and club management software in the golf industry. Our cloud based system runs seamlessly between tee sheet, CRM, POS, inventory, restaurant, and many third party integrations. We believe our system is the best for your course and will improve the efficiency of golf operations while keeping costs low and improving profitability.
How a good Golf POS can grow your business
Before we get into all the neat features our POS system offers, lets talk about a few concrete examples we've observed from our customers in the past. Having a good POS means that aside just from enjoying a streamlined and efficient system, you can also use your POS to:
Engage in stronger email marketing
Our POS is seamlessly integrated with our customer database, meaning that as you take customer's emails our database updates automatically and collects this valuable information. Even better, you can make use of our Mailchimp integration which allows your golf course to collect emails and then automatically add them to your email marketing list.
By using our Chronogolf marketplace you can promote your golf course online directly from the golf POS. With Chronogolf, promotion in this case can be done either by utilizing our Facbook plugin to share tee times with your Facebook audience, or by promoting discounted tee times on our online marketplace.
Efficiently manage inventory
Does your POS track inventory in real time? Chronogolf not only tracks what products are sold, it also can tell you which product categories are selling well while improving exactness and efficiency of ordering through our simple purchase order system.
Track in depth reporting in real time
These days data is your best friend when trying to understand how to optimize operations, revenue, and inventory. Our golf POS provides powerful reporting that updates in real time meaning that golf manager can now better understand what prices works best for different tee times, which pro shop items and categories sell best, and even what food and beverage menu items are desired most.
Simplify employee management
Track employee hours, sales, and performance in one place using your POS system. Know exactly which employees are best by tracking sales performance numbers recorded directly in the POS. You can even track employee sales by category to know which employee fits best what department.
Use this checklist to make sure you have the best golf POS
Before you start shopping around, you'll need a good understanding of what different POS systems are offering. Take a look at this check list to better understand the features you are looking for.
For your Pro Shop POS look for:
Employee Management
Track hours with easy employee clock in and clock out
Monitor sales by each employees based on category or item
Track performance between employees over any time period
Inventory management
Real time reporting
House accounts
Easily manage member house accounts
Integrates seamlessly with the tee sheet through Stripe
Easily manage payment information directly on the tee sheet
Receive timely notifications regarding payments

Theft prevention
Compare inventory levels versus the count recorded by the POS
Use the member profile picture camera to capture photo ID
Manage employee rights and permissions
Regular security updates
Purchase order entry
Little to no data entry, just enter the pertinent information
Promote tee times on the Chronogolf marketplace
Use POS data to understand underselling tee times
Easily promote discounted tee times on the Chronogolf and TeeOff marketplace directly from the POS
Simple user interface
Customize all buttons on the sale page
Easily search for products, customers, and sales history
For your restaurant POS look for:
Employee management
Track everyone from servers, to chefs
Understand who is getting better sales
Simple employee check-in makes payroll management simple
Inventory Management
Track every part of your kitchen stock
Custom floor plan

Easily customize the floor plan display in the POS
Manage server areas directly through the POS
Simple interface that's easy for staff to learn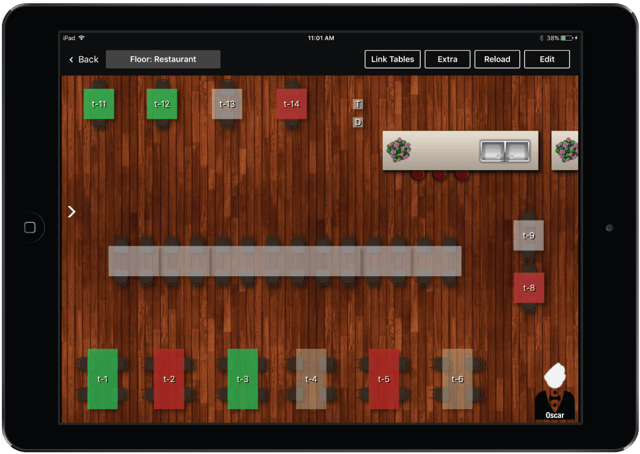 Custom menu
Customize the menu layout with colours, categories, and modifiers
Make ordering quick and easy with the iPad
Empower your clients to create their own orders
Cut labor costs
Improve exactness and efficiency ofthe order process
Create a unique and modern experience for your customers
Real time reporting
View sales reports based on item, product category, or employee
Quick and efficient printing of all pertinent reporting
House accounts
Easily manage member credit accounts
Integrates seamlessly with the tee sheet
Notifications regarding payments
View bills for restaurant and pro shop all in one place

Cloud Based
Manage operations from any device, anywhere
Enter your purchase orders at the PGA buying show
Track sales, inventory, and operations from
home or on the road
Be more in touch with operations at the course
No on site server storage
Cut costs and storage usage
No expensive hardware to replace after 5 years
No installation or software requirements
Run the system easily from your browser
24/7 customer support
Get help from start to finish
Unlimited training sessions available for staff
Live chat support available 24/7
Constant software updates
Fresh new features released every month
We take your suggestions seriously!
Get a Golf POS with Best-of-Breed Integrations
Marketing Software
Manage loyalty programs with balances viewable online
Track opens, clicks, bounces, and unsubscribes
Know exactly what links are getting clicked
Accounting software
Integrates directly with POS inventory and sales data
Compatibility with all versions of quickbooks makes managing accounting activities easy
Property Management Services (PMS)
Golf courses that are integrated with resort management software will have no problem integrating our POS into their CRM software
Fully open API
Learn more about the companies our software works with
Chronogolf Software is Affordable
Variety of pricing options available
Fair barter system available
No obligation during trial period
Now that you know what the best golf POS looks like
You have a had the chance to get a picture of what the best golf POS on the market looks like, it's time to evaluate your alternatives and make an important decision. These days, it's so important for your golf course to be modern, up to date, and ready to serve the young generation while being user friendly enough for older players.
Of course, you know your golf course's needs better than anyone else but, you need to make sure you have the best information available in order to choose the best option. Book a demonstration of the software we are sure suits your needs best, Chronogolf is offering a no pressure, no commitment opportunity to see our software in action.